Taken from your family. Pressured to denounce your faith. Alone and desperate to escape. If this happened to you, what would you do?
This is what happened to Ijanada. At just 14-years old, members of the extremist group Boko Haram swept through her village, changing her life in an instant.
"There were gunshots everywhere," she remembered. "We fled for our lives."
Ijanada ran. But as the gunshots stopped and she returned home, thinking the attack was over, the extremists came back.
As everyone ran again, Ijanada tried to hide under her bed. But she was too slow.
"They came into the room shooting," she said. "They saw me under the bed and pulled me out. "They threatened me, saying that if I didn't denounce Christ, they would kill me."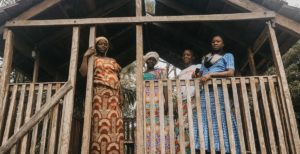 Life In An Extremist Camp
The extremists took Ijanada to a camp where she was forced to marry one of the men and soon fell pregnant.
Remembering her time there, she said, "I faced so much suffering, hunger, maltreatment, and pain. All I kept thinking of was my family and the memories we shared before I was kidnapped."
Separated from her loved ones and now a young mother, Ijanada was traumatised. She was desperate to escape and desperate for hope.
A Chance To Escape
It wasn't until four years later, as a mother to a young child and pregnant with her second, when Ijanada's chance to escape finally came.
"They had all gone out for an attack. I took my son and started running into the forest without turning back."
After hours of running, Ijanada and her son found the help they needed to get home. But life back home wasn't as easy as Ijanada expected.
While her family welcomed them with open arms, her community was hostile. Many of her neighbours believed that children fathered by Boko Haram soldiers carried the seeds of the group's hatred.
"I was not welcome. Most people kept mocking and insulting me. Luka – my son – is always isolated and lonely."
Finding Hope
Despite the trauma and challenges she faced, Ijanada remained steadfast in faith thanks to the help of supporters like you. Ijanada attended a trauma care program run by Open Doors' local partners and received pastoral care.
She said, "I found a new life here. Apart from the prayers, they encouraged us and taught us about genuine forgiveness. I learned how to forgive those who offended me, and I have forgiven those who mocked me.
"If I hadn't attended the seminar, I would still be full of bitterness and unforgiveness. I didn't understand the importance of forgiveness, but now I do, and I have let those feelings go."
For Christians like Ijanada, who face persecution, coping with the aftermath is difficult. The right support and care goes a long way to help those who have lost everything to find hope again.