At least 14 people have been wounded and 1 suicide bomber killed in a terrorist attack on a church in Indonesia today, Palm Sunday.
The explosion occurred at 10:28am local time (GMT 03:30) as worshippers were leaving the church service. Police told reporters that two suicide bombers attempted to enter the Roman Catholic church in Makassar, South Sulawesi, before an explosion happened at the church's side entrance.
"…Some believers have been severely wounded, and all present have been traumatised. Their lives will never be the same," Sam*, Open Doors' coordinator for the work in South East Asia, said. "We ask the worldwide Church to pray for their brothers and sisters in Makassar."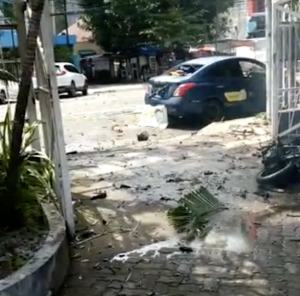 Image: Footage shows the aftermath of the attack.
A security guard tackled one of the suspected bombers, who arrived by motorbike and tried to enter the church. Security camera footage showed smoke and debris blown onto the road from the blast.
According to a Channel News Asia report, five church staff members and four worshippers are among the wounded. They say there were few people attending mass due to covid-19 restrictions.
"In Indonesia, the situation for Christians has been deteriorating in recent years…" Sam said, "It's important that we come alongside when they are suffering. They must know that they are not alone."
Open Doors' local partners are on the ground assessing the situation and will give more updates as they come.
Easter is a heightened time of persecution for the church. There have been regular attacks on the church as Christians gather to celebrate the death and resurrection of Jesus.
This also isn't the first time churches in Indonesia have been targeted. In 2018 three churches were targeted in coordinated attacks in Surabaya, Indonesia where 28 people were killed and 57 injured.
*Name changed for security
Open Doors exists to help the persecuted church stand strong in times like this. We help people follow Jesus all over the world, no matter the cost, by providing emergency relief to strengthen the church as they continue to follow Jesus. You can help where it's most needed by giving here.