We invited three China experts and Open Doors local partners to share about the present situation of Chinese Christians under Xi's rule and how Open Doors, as a ministry, strengthens the persecuted church of China. Here is what Yuhua, Moli and Yangyang* had to say:  
China's ranking on the World Watch List has risen drastically in the last six years, from 43 in 2018 to 16 in 2023. What factors do you think contributed to this?
Moli: I do not know the exact reasons, but I do see there were changes in the past few years, especially during the pandemic. The government tends to use the situation of the pandemic to control religious activities. In China, Communism is also a religion—it requires people to be dedicated and loyal solely to the Party. But for us Christians, our priority is God.
As of now, at least where I am living, we are free to go to church but are no longer allowed to gather as one big group. A group with more than 100 people can be alarming to the Party. This can put us into trouble; for instance, policemen barge in when they receive reports from the neighbours.
We have heard and observed that digital monitoring in China has been increasing. Can you tell us more about it?
Yuhua: CCTV is basically everywhere in China— in religious and non-religious venues.
It is mandatory for registered churches or the TSPM churches (Three-Self Patriotic Movement) to install CCTVs in each corner of their facility. However, some churches refuse to implement this, so the government only installs it outside the gate of the church. Last year, when I conducted an interview with a pastor, he observed that there is a decline in congregation attendance after the CCTV installation.
Yangyang: The regulation implemented in March last year targets all religious sectors in China by restricting their online activities. What is required by the law is an official permit that allows them to post and share religious content legally. This move has restricted the implementation of activities of those who are not able to obtain a permit.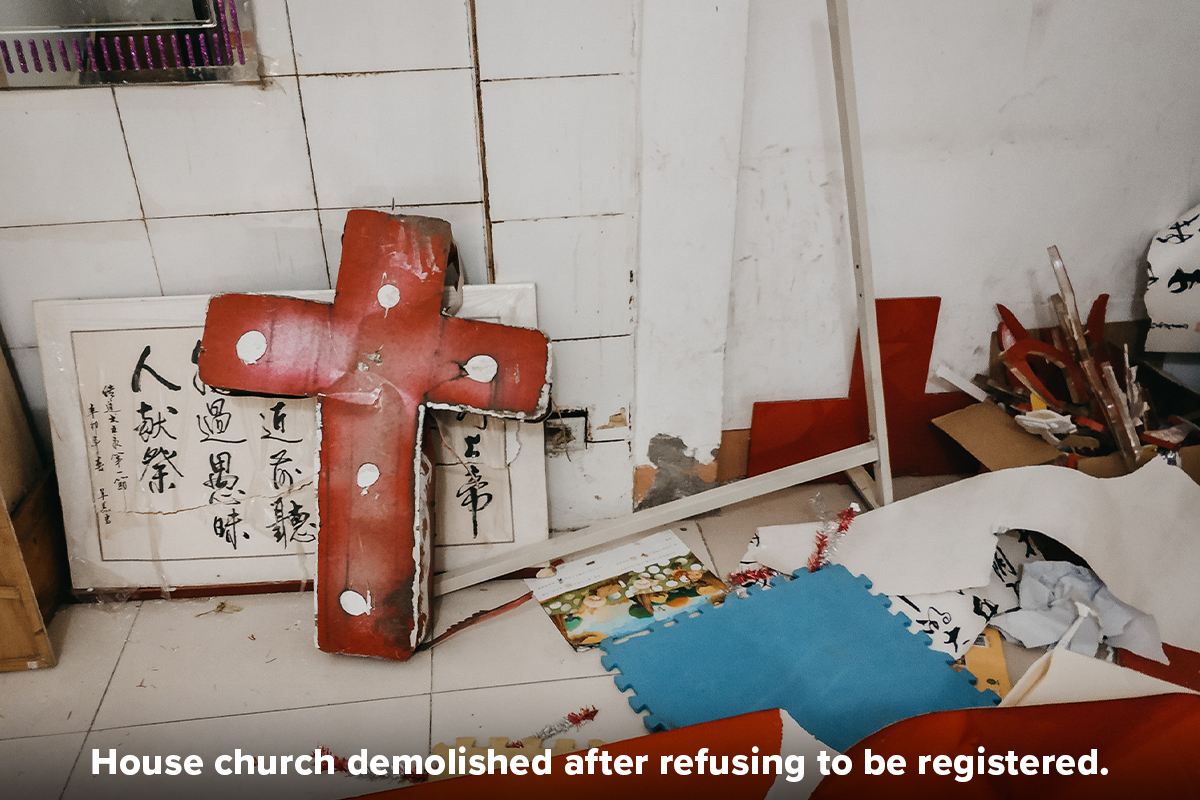 Religious content refers to religious videos, Bible scriptures, religious encouragement, etc. In terms of online platforms, WeChat is one of the most used social media platforms in China. People make substantial communications daily via this platform.
Our partners shared that they received phone calls from authorities warning them to remove their religious content posted online. Our partners felt intimidated at first, so they had to stay vigilant—they chose to use code language when communicating with others.
The availability of children's materials in China has also decreased significantly. We can hardly source the materials in the country unlike in the past.
Can you describe your vision for China in the future? What can be done by our ministry?
Yangyang: We are definitely entering an era of more restrictions and challenges. Although changes are unpredictable, my vision for China is for our brothers and sisters to be holistically well-equipped through our persecution preparedness training. I also want to see our pastors and leaders make use of our resources to shepherd and disciple their flock. Many pastors and leaders might not know how to respond when faced with persecution, and this makes it so important for our ministry to fill in the gap.
What stands in the way of achieving this vision?
Yuhua: One of the challenges is overseas connections. Open Doors is an international organisation; this puts us in a difficult position. The Chinese government is very much concerned about foreign infiltration, and pastors are very careful in choosing whom to work. This approach gives us a huge challenge in identifying new partners.
Another challenge is among Chinese people. There are different tribes in China. With this dynamic, churches are more careful when it comes to inviting new people. It takes some time to build this trust.
What unique role does Open Doors play in helping the church in China achieve its God-given vision?
Yuhua: Open Doors' uniqueness is that we are persecuted church driven. We have programs and materials that focus solely on persecution preparation. A few years ago, when I went to interview Han churches, persecution was not a subject that concerned anyone. Nowadays, it is totally different. Average believers now feel the pressure, and many of them are not well-equipped. This is the missing piece where we can fill in.
How can the church in Australia and New Zealand be part of achieving this vision?
Yuhua: First, I really hope that they see the true message about China, based on facts and truth and without any biases. I want them to be "truth-bearers." Let's pray that we can find ways to make things happen despite challenges.
Second, we need your prayers and intercessions. With your prayers and financial support, we can build a strong network of workers and partners who have the heart to reach out to the persecuted Christians in the country.
Your prayers are very important to our brethren in China. Prayer is a crucial element that connects all of us spiritually. Thank you for keeping China in your prayers. Please never cease praying for us. Thank you!